Shintaro Sakamoto Interview



Initially published on Noisey China, Aug 2018
Translated and edited by Xin Chen, July 2023


Though have been a fan of the Japanese cult film
Love Exposure(2008)
for some time, it was at 2016's Hong Kong International Film Festival that I watched the movie on a big screen for the first time. The four-hour movie was never boring but full of mystery, excitement and a fabulous violent aesthetic, and no one would fall asleep when they saw a high school girl cut a man's stick - the only words you heard from the neighboring audience would be "Oh no!".
It's not possible not to be impressed by the two soundtracks playing when the main female characters Koike (Ando Sakura) and Yoko (Hikari Mitsushima) started introducing themselves after
the iconic fight scene
. The drums and melodies from both of the tracks, "Beautiful(美しい)" and "Hollow Me(空洞です)", brought more excitement and a twisted beauty to the fierce violent scenes of the two girls resisting their dysfunctional family relationships and patriarchy.
Koike(Ando Sakura) ©️ Internet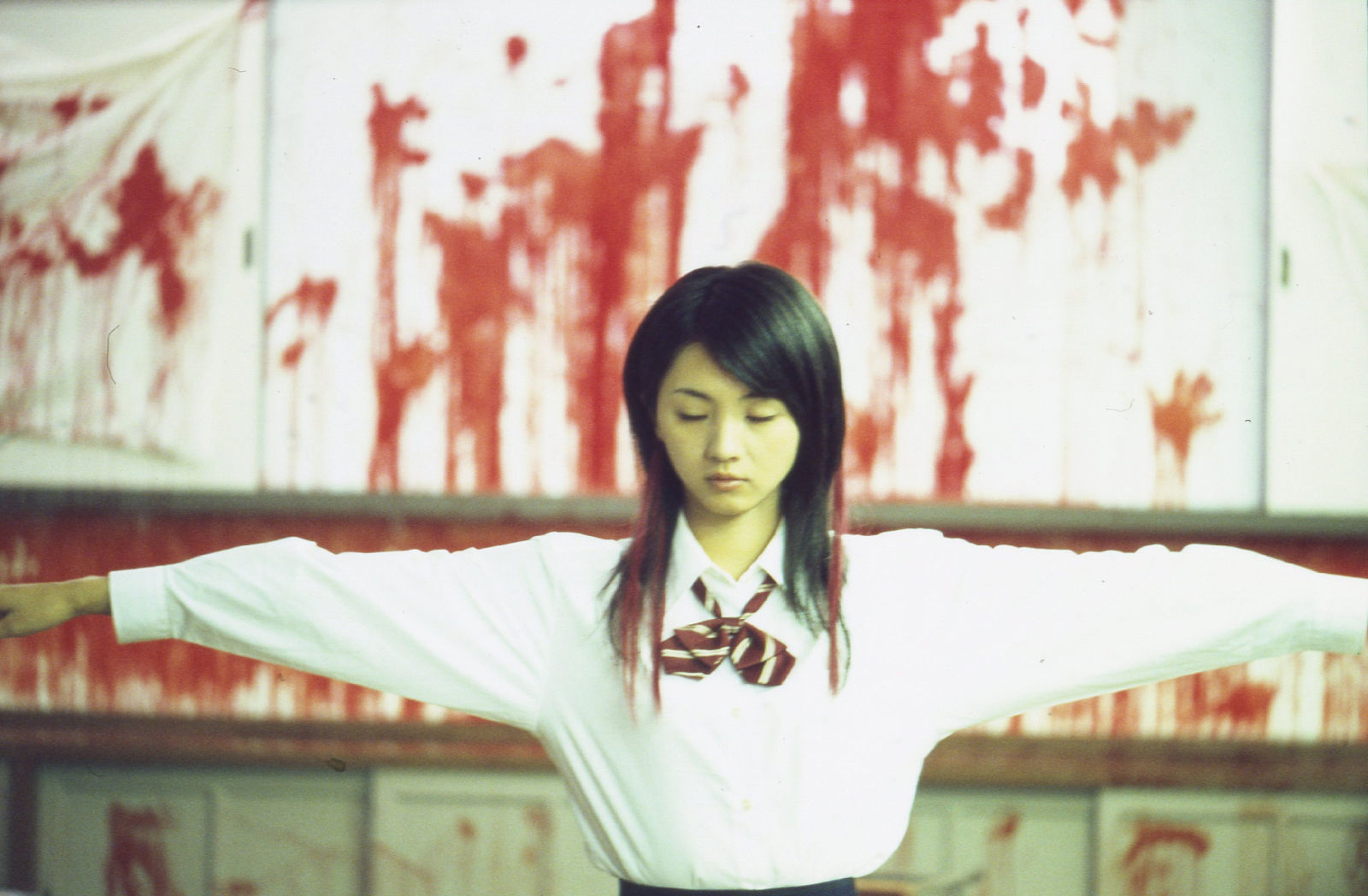 Yoko (Hikari Mitsushima) ©️ Internet
"Beautiful" and "Hollow Me" are from the iconic album Hollow Me(《空洞です》 ) of the Japanese psychedelic rock band Yura Yura Teikoku(ゆらゆら帝国), which is also their last album ever, before disbanding in 2010.





Yura Yura Teikoku was formed by the lead man Shintaro Sakamoto and his high school friend Noichi Yoshida in 1989. After several changes of members, Yura Yura Teikoku settled on Shintaro Sakamoto (vocal & guitar), Chiyo Kamekawa (bass), and Ichiro Shibata (drums).



During its active 21 years, 3X3X3, Sweet Spot, and Hollow Me were considered the three most iconic albums. The debut album 3X3X3 was released through MIDI Records in 1998, which confirmed the band's psychedelic rock root. Compared to the two subsequent albums, 3X3X3 has a strong rock'n'roll vibe with hasty drum beats and raw guitar sounds.
By the time of Sweet Spot, this one was tilting more toward the psychedelic end, and Yura Yura Teikoku began experimenting with more different instruments and sounds. The title track "Sweet Spot(スイートスポット )" begins with an experimental piano solo, while "Story of an Octopus(タコ物語)" features a number of strange samples, sometimes they showed up only for one second.
Compared to their previous albums, the psychedelic atmosphere was preserved by the band with their distorted guitar, while the saxophone was able to contribute more sweetness and the sand hammers added more cheerful beats. The order of tracks was also interesting. Near the end of the album, as you listen to the tender and sad "Lonely Satellite(ひとりぼっちの人工衛星)" it's very natural to imagine yourself becoming an artificial satellite and bidding farewell to everything you love on this planet, then slowly drifting into space. While you would only hear the exciting drums from "Hollow Me" in the next second, which sucks you into another fascinating vortex - in terms of spatiality, they seem to be coherent though.
3x3x3(1998)
Sweet Spot(2005)
Hollow Me(2007)
However, in 2010, the band announced their disbandment, believing that they could no longer make a breakthrough. At the time, they were already quite popular in Japan where their shows were often sold out, and ever performed with Yo La Tengo in the US. The lead singer and guitarist Shintaro Sakamoto once explained it in an interview, "Because we all don't enjoy it anymore. We didn't start Yura Yura Teikoku for success in the first place, so we didn't feel excited about it(success). And if we all stop enjoying it, then it should be finished."
After the band broke up, Shintaro Sakamoto did not immediately continue to make new music, but spent most of his time learning a new instrument at home, the conga drum. As he practiced, he began to think about making music again and also started to compose new works with conga drum and bass, the two became his most frequent instruments on his first solo album How To Live With A Phantom(幻とのつきあい方).


How To Live With A Phantom (2011)

Although his initial idea was to make more fun and bright music, Sakamoto found that the dark part of himself was unconsciously revealed when he finished How To Live With A Phantom. Obviously, the entire album sounds much softer than Hollow Me, the rock part was almost gone and replaced by a more relaxed swinging soul-funk vibe. In the meantime, it's not hard to feel the darkness from the name of the track "In A Phantom Mood(幽霊の気分で)" and its lyrics, "I wandered through the wide streets thinking I was dead, and melt into the scenery (広い通りを死んだ つもりでさまよった景色に溶け込んで みせたい)".
When Sakamoto released his third full-length album Love If Possible(できれば愛を) in 2016, it turned to a Ghibli-movie-alike theme as "The first morning of summer holiday." The album also included childlike track names such as "Tournament Of Macho Men(超人大会)" and "Another Planet(べつの星)". Besides changing the theme, Sakamoto also continued to explore sounds that are interesting and "different from the one(album/track) before", which seems like what he's been consistently doing since Yura Yura Teikoku.
After Sion Sono used Yura Yura Teikoku's songs as the soundtrack, another popular Japanese TV series, Tada's Do-It-All House(まほろ駅前多田便利軒), which was ever popular among young Chinese, also used two of Sakamoto's songs in its episodes, "Don't Know What's Normal(まともがわからない )" and "Let's Dance Raw(ナマで踊ろう)".

Tada's Do-It-All House(まほろ駅前多田便利軒) ©️ Internet
Shintaro Sakamoto China Tour Poster ©️ Luuv Label
In June, a Chinese music label and event promoter, LuuvLabel from Shanghai, announced Sakamoto's upcoming tour in China. We took this opportunity to interview Shintaro Sakamoto and learned more about his music and visual works.

NOISEY: Let's start with your albums. The most recent one, Love If Possible, has a theme of "The first morning of summer holiday." which evokes some Japanese cartoons, while your previous work Let's Dance Raw(ナマで踊ろう) depicts "music that will sound after the extinction of mankind". That was a big change, tell us more about it.
Shinktaro Sakamoto: The second album, Let's Dance Raw, is definitely one of my favorite albums. But I think it is an unlucky and scary album, even some of my friends said the lyrics were horrifying. And since then, I sensed that the world has been getting closer to the world described in Let's Dance Raw, and that made me worried.

So in this one(Love If Possible), I wanted to find a balance and decided to focus on bright and happy colors. But I'm afraid it still didn't manage to convey happiness in the end.


Let's Dance Raw (2014)
Love If Possible (2016)
What is a "first morning of summer holiday" like for you?

I think it's like an "I can stay in bed a bit longer" atmosphere.

Talking about change, from Yura Yura Teikoku to your current solo works, what do you think has never changed in your music-making?

What has not changed is that I have been writing and singing in Japanese.
Sakamoto's works always have a strong integrity and theme, the compositions, lyrics writings, and even the choice of musical instruments are all developed around the theme, and each other is combined closely to present your expression. But what is your top priority in the creation process?

Just make songs that feel fresh to me, that's my priority.

I think the texture of the sound is very important. Even if there is no special new musical experiment, as long as the difference between the texture and balance of the sound is made, then it will sound fresh, right?
Hawaiian steel guitar seems to be an important part of your solo work, and even the cover of Let's Dance Raw shows you holding a Hawaiian steel guitar. Can you share with us the details of it? Besides this, is there any other instrument that you like at the moment?

The Hawaiian steel bar guitar I use is a great-sounding Fender USA Champ.

There are a lot of instruments that I like, and I like the sound and look of the old-style instruments basically. I also like the sound of old drum machines.
In 2006, you published an art book SHINTARO SAKAMOTO ARTWORKS 1994-2006, which compiled your previous artworks, and you also designed album artwork and produced some animated music videos.
Taking the "Disco Is" MV, it's a stop-motion animation made with sketched characters and the drawings work perfectly with the music. How do you approach the connection between visual design and the music piece?

I think the connection between sight and hearing is very important.

I was often simply attracted to the cover and bought a record of unknown content because I liked the cover. I had also been drawn to photos of bands I hadn't heard of in magazines and become interested in that band.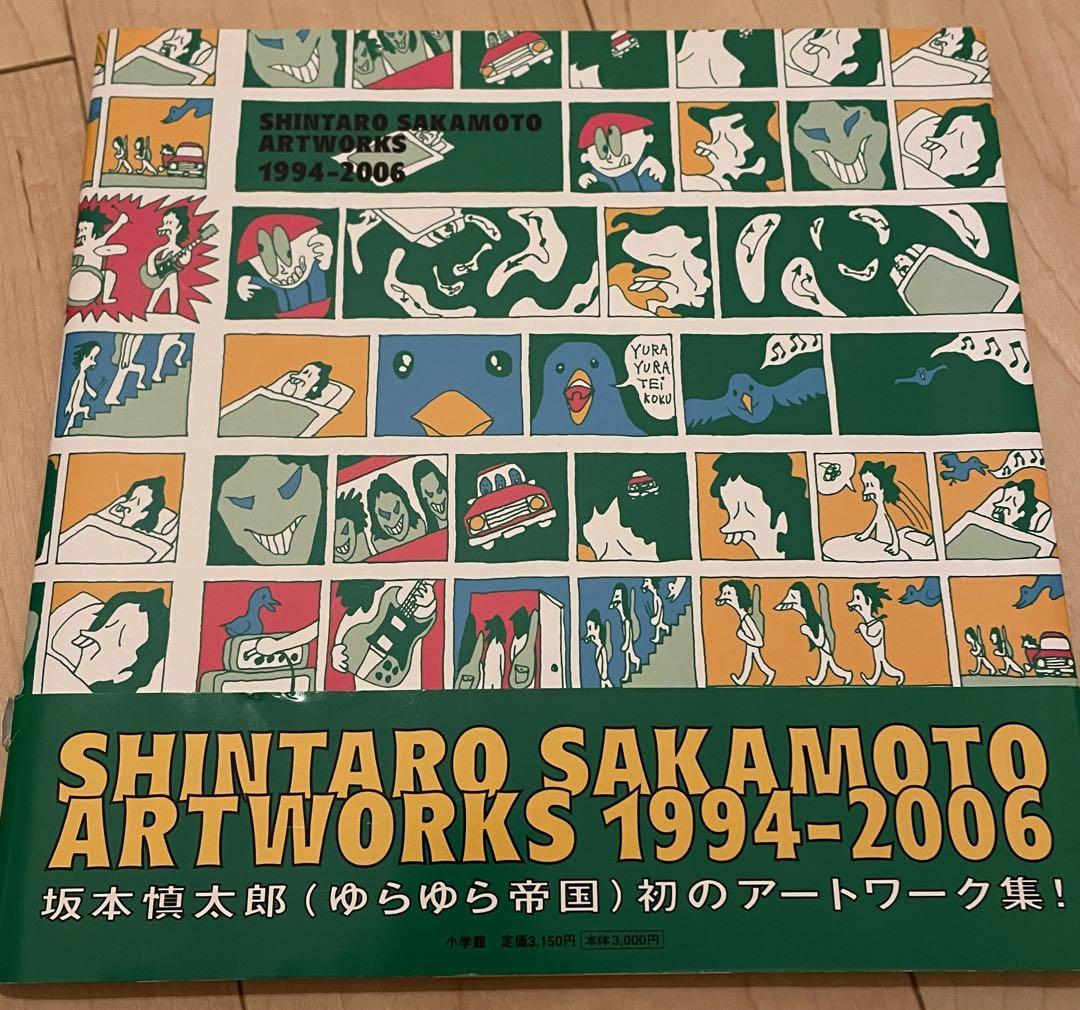 SHINTARO SAKAMOTO ARTWORKS 1994-2006 ©️ Internet
I learned from an article that the cover of Love If Possible is a collection of bacteria. Why bacteria?

The concept of Love If Possible is about love seen under a microscope.

I think although the injuries are painful, the wound always heals unconsciously, and there will be a moment when you suddenly realize the pain is gone. I wished that I could make music that represented such a moment. So on the cover of the album is an image of immune cells healing a wound under a microscope.

It can also be interpreted as meaning that even in the wilderness where organisms have become extinct if you look closely under a microscope, you will still find signs of cell regeneration.
An interesting book I was reading lately, Ma, Mono no Aware, Wabi-Sabi (Ma, an empty or formless beauty; Mono no Aware, a fleeting, varying beauty; Wabi-sabi represents rustic and desolate beauty)from Katsunori Ohnishi introduced the three Japanese traditional aesthetics, and the irrational and unspeakable nature of Ma immediately reminded me of the themes in your music works. Do you think there is a connection between your works and traditional Japanese aesthetics?

Although I haven't studied Japanese aesthetics in detail, I believe there is a connection.

When making music, I aim more for the absence of language and sound, and people can use their imagination to fill in those missing places. I think it shows a wider world.
You once said in an interview that when performing, you would rather be a "hole" on the stage. How should we understand this "hole"?

Wouldn't it be cool if the center of the stage were just a hole instead of a person? It's my fantasy. I think the "hole" is the image connecting reality and non-reality.

If there was a chance to not be a human, what would you wanna be?

I don't want this opportunity, being a human is alright.
What are your expectations for the upcoming tour in China?

This was my first trip to China and I couldn't imagine what it would be.

But I would be very happy If people enjoyed our music.

Shintaro Sakamoto will tour China on September 7th in Shenzhen, September 8th in Hangzhou and September 9th(Sakamoto's birthday) in Beijing. I hope you've got your tickets ready.